Document Management
Store and issue important documents to your staff

Store important files against key records and employees to support and maintain a healthy communication between the business and your staff.
Document store
Upload documents to reinforce other information in CompanyControls. This provides the opportunity to maintain associated files against the specific record, the employee or for all employees in the company. These files are securely hosted and strictly offered to staff only when appropriate. For example a Fit Note from a doctor can be uploaded against our Sick Note (self cert, Dr note or medical certificate) record or an Employment contract can be securely uploaded to an employees personal documents. Private personal documents can also be added that are not available to the employee but linked to their profile e.g. interview notes. Company and Department/group Documents can be added such as your Company handbook, a monthly newsletter, insurances certificates and payroll policies.
These types of upload areas are available throughout CompanyControls to add further weight to the records we expect you will keep.
All documents benefit from version control allowing for new versions to supersede previous ones and all access to documents are watched and recorded by default.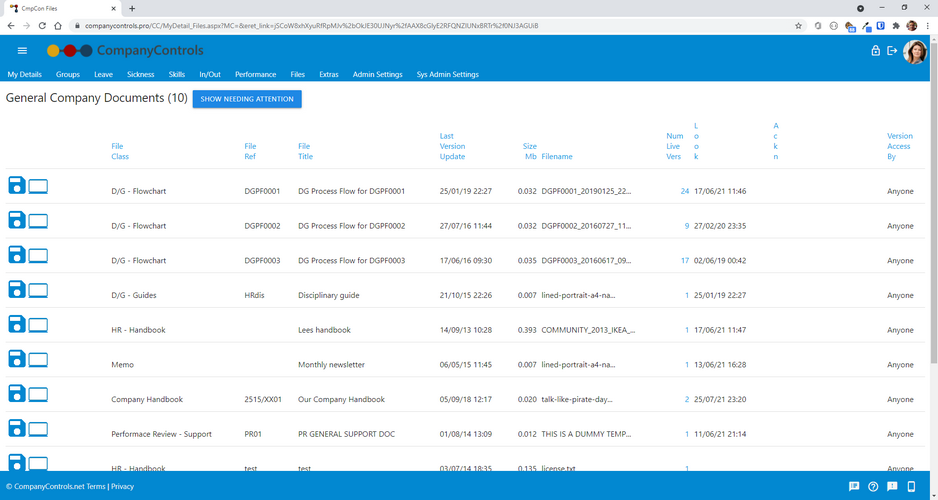 Issue Documents to staff
Offering a store of documents allows your HR team and employees to record, explore and search for a documents but in some cases you will want to issue a document that you need your staff to read. It may hold important company policy changes or addendums to their contracts. CompanyControls allows you to issue a document to one or more of your employees that you require them to view and in some cases, digitally acknowledge an agreement of its contents. These documents are highlighted on their dashboard and administrator pages allow the issuer to keep track of these actions and chase employees where required.